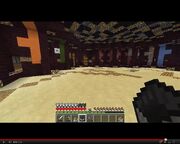 The Nether Portal Hub
Edit
The nether hub was made for easy transport on the Mindcrack server. It has a portal linked to the spawn and has a hole in the ceiling made by DocM77 using the new dark oak trees in 1.7.The nether hub has 2 floors because the amount of players has grown in time. It has a free items room where players can put tools in chest for other players.
The tracks to PortalsEdit
Each player has their own track to their portal and in the hub their "gates" are customised with blocks and have their owners names on signs. Everyone on the server has a "gate"
Note: This article is not finished!
Ad blocker interference detected!
Wikia is a free-to-use site that makes money from advertising. We have a modified experience for viewers using ad blockers

Wikia is not accessible if you've made further modifications. Remove the custom ad blocker rule(s) and the page will load as expected.